Cook Yourself Healthy And Happy

What's for dinner? Hopefully something fast, tasty, and healthy…but for those who lack the time (or desire) to dig through multiple sources to find recipes with that magical combination, help is just a few keystrokes away at Skinnytaste.com. Since 2008, literally millions of eager recipe seekers have logged in for "delicious low fat," family-pleasing recipes that work in real life. Gina Homolka, a busy mother of two, and the author, recipe developer, and photographer of Skinnytaste, started the blog in an attempt to help her stay healthy and experiment with creating skinny recipes.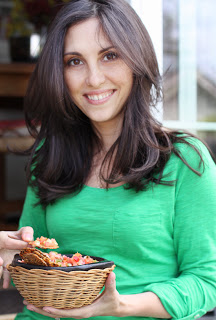 I am in LOVE with the fresh and fast Skinnytaste recipes and I've teamed up with Gina to work on the upcoming Skinnytaste cookbook (available October 2014) ! Here are some of Gina's top tips and tricks, from her healthy kitchen to yours.
Q. Your recipes are outstanding – easy, flavorful, and healthy!  Where do you turn to for inspiration?
Food is always on my mind, I am always thinking about what I want to make next, and I jot down my ideas all the time, but the inspiration is from everywhere. From meals I have at restaurants, to the produce in season at the time, and even requests people send me for makeovers! I never run out of ideas!
Q. Do you snack/taste while you cook?  How do you keep it in check?
I taste the food while I cook but I have pretty good control because I know that will be my lunch or dinner. I also share my experiments with my neighbors, friends and family so everyone gets a taste and I don't get left with too much food. Desserts on the other hand can be a little tougher, especially around the holidays since I test recipes a few rounds before I post, but again I share them with neighbors and friends and family, immediately and get them out of my house!
Q. What are some of your go-to Skinnytaste recipes?

There are more than four, but here are some recipes I make again and again:
Carne Bistec – Colombian Steak with Onions and Tomatoes
Pork Chops with Mushroom and Shallots
Q. Where did you learn to cook?  
My Mom and Dad cooked when I was growing up. We never ate out and never had fast food.  Naturally I learned to cook in my home, my mom would even leave me in charge of supper on nights she couldn't cook. But honestly, I always loved cooking and experimenting in my kitchen. I would come home from school and try to whip up crepes, a steak sandwich or spaghetti and meatballs from scratch. I'm sure my early kitchen experiments weren't very good, but I thought they were! 
Q. What is your all-time favorite cookbook or chef?
I was recently in DC and got to sample some dishes from Chef Jose Andres, I loved his use of fancy foams and how he thought outside the box.
Q. What three kitchen tools do you think are a must-have?
I love my wooden spoons. I also can't live without my chopper and my immersion blender.
Q. What's your Diet Type?
I definitely relate to the Diet Feeler...
"Passionate and perceptive, Diet Feelers appreciate and inspire others, often acting as a teacher or counselor to friends, family, and colleagues. The Diet Feeler excels in a healthy lifestyle when her efforts focus on self-expression, and especially when she receives positive encouragement and support from others along the way."  
I love feeding my family with healthy foods they really enjoy eating…and I love helping others do the same!