Imagine Being Free From Your Weight Worries Forever
Later in 2014 I'll be launching an online version of my signature Smaller Size Bigger Life weight loss program. I'm SUPER excited to share this with you!
You'll discover my proven process to help you achieve the body and life you desire and deserve. Smaller Size Bigger Life will be an online group coaching program for women who…
 Want to lose weight without dieting or deprivation
Are tired of feeling overwhelmed, powerless, and ashamed about weight or food
Want a clear step-by step system for long-lasting and life-changing results
Are ready to stress less, weigh less, and live a life filled with joy

If you struggle with emotional eating, compulsive overeating, or body image issues (and you're ready to get off the diet roller coaster forever) this program is for you.
These online spots will fill up really quickly, so please read over the following info and if this feels like the right fit for you, get on the waitlist HERE.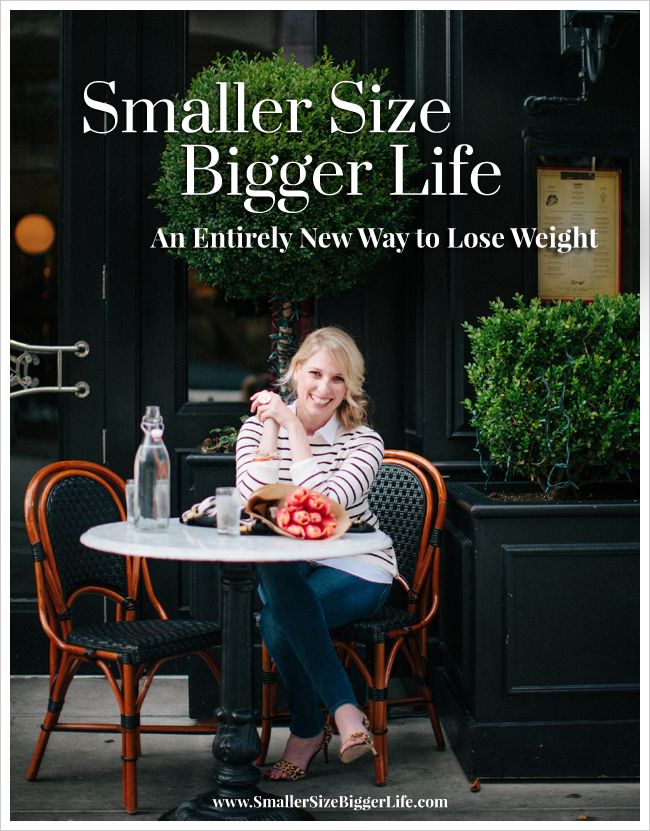 Smaller Size Bigger Life is meant for women who are ready to make serious changes in their life. If you're looking for a fast-fix or the latest fad diet, this is not the program for you.
But if you want lasting weight loss, a healthy lifestyle, and freedom from your food demons—if you're ready to get real about your weight issues—I can help.
Women who are healthy and happy are better partners, mothers, and friends, and they influence and empower other women to lead healthier lives. Women are also natural communicators, and a woman who is free from her food and weight fears, is free to spread love in the world. She is able to become more of who she really is, and to make a positive difference in the lives of others.
And believe me, this BIGGER life in a smaller size is 100% possible for you.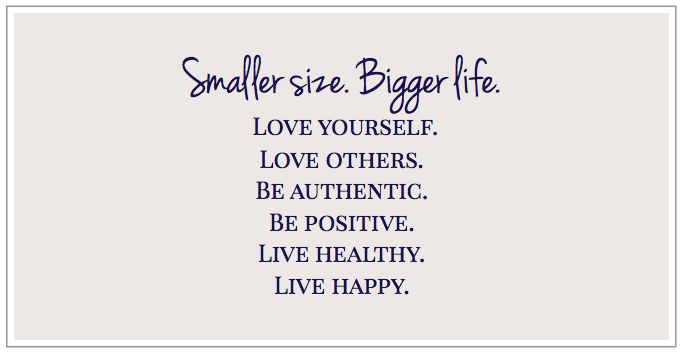 Here are just some of the topics we will be covering in Smaller Size Bigger Life…
An Entirely New Way To Lose Weight
Why most women fail at weight loss again and again and how to free yourself from this frustrating pattern forever.
How to instantly break through the excuses and lies that keep you stuck.
The super-easy habit to stop body bashing and to overcome negative "fat" thinking.
What Are You Really Hungry For
What your food cravings really mean and the one thing you need to overcome them.
How joy, fulfillment, and peace of mind will fast track your weight loss results.
The secret to controlling your hunger and overeating without even trying.
Your Body Is Not Broken
How to eat all your favorite foods (croissants, pasta, cookies, French fries, whatever) without gaining weight.
The huge eating blunder that most women make, and the simple (yet extremely effective) daily practice that will guide you to success.
How to reestablish your intuitive eating instincts for effortless weight loss.
Food That Loves You Back
The most important nutrition tool to shed weight and the easiest way to control portions.
The absolute best foods for weight loss, glowing skin, and lasting energy.
Why you need to eat more if you want to weigh less.
Progress, Not Perfection 
The five things every woman needs for long-term weight loss and body confidence.
How to use your inborn strengths to build habits that stick.
Why mistakes and "slip-ups" are a really good thing, and how to never, ever feel like a failure again.