5 Weight Loss Habits That Guarantee Your Success
This year I think you should give up weight loss resolutions. While you're at it, give up dieting and deprivation, too.
Try something new. And better.
Focus on small, sustainable daily improvements that will lead you toward your health and weight goals. Just keep in mind that lasting change takes time. Strive for progress, not perfection!  
Adopt all five of the following habits, or just the one or two that really resonate with you. Either way you'll be setting yourself up for a healthy and happy 2014.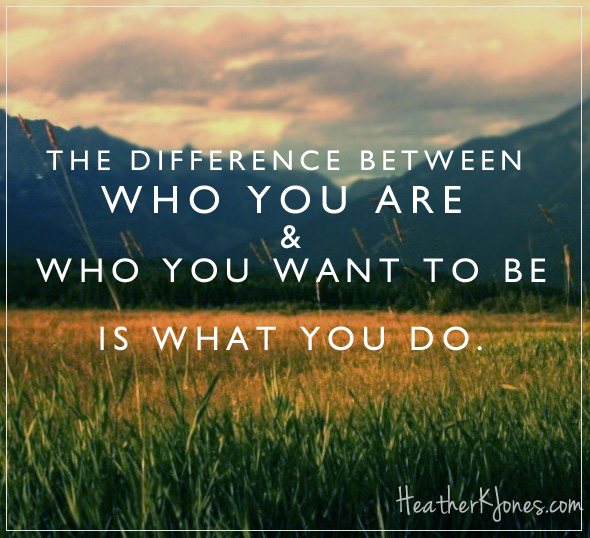 Daily Habit 1: Stop Beating Yourself Up
Refuse to criticize yourself. Accept and love yourself exactly as you are (yup, extra pounds and all!). This is the first step to making any change. You're not giving up. You're empowering yourself to feel good now, so that you can take positive actions towards your goals with confidence.
Think about it this way: If criticizing yourself worked, you'd already be thin and happy, right? 
Pay attention to your thoughts and eliminate the negative and nasty ones. Start talking to yourself the way you would talk to your best friend or your daughter – with kindness and compassion.
Concentrate on just this one thing each day, and your life will get better and your weight loss journey will get easier, guaranteed.
(Read The Power is Within You)
Daily Habit 2: Drink a Green Smoothie 
Overhauling your entire diet in one fell swoop can feel seriously overwhelming. But adding just one delicious green smoothie to your diet each day is easy-peasy. And it's effective.
The ladies over at Simple Green Smoothies (LOVE this site) say this, "Plant-powered green drinks are packed full of leafy greens, fresh fruits and hydrating liquids that keep you nourished and keep your cravings at bay for hours. With Simple Green Smoothies by your side, get ready to boost your energy, lose weight effortlessly and make healthy eating a lifestyle— not a diet."  Yes, please!
Their super simple formula is 2 cups leafy greens + 2 cups liquid + 3 cups of fruit = 2 servings of green smoothie. Down one smoothie a day, and you'll feel so good, you'll be inspired to make other good-for-you diet and lifestyle changes. Such as cleaning up your cooking with tasty and healthy recipes from Skinnytaste. (Psst, I'm the nutrition expert for the upcoming Skinnytaste cookbook!) 
(Read Food Rules: An Eater's Manual)
Daily Habit 3: Pay Attention to Your Hunger
OK, this one is a biggie. Paying attention to your hunger on a daily basis will help you reconnect with your body's natural hunger and fullness cues which, most likely, have become fuzzy after years of dieting, binging, and emotional eating. (Check out the hunger scale here.)
Here's how…
1. Feed your physical hunger – True hunger grows gradually in its intensity and is accompanied by a rumbling stomach or low energy.
Our bodies instinctively know when (and how much) we should eat, and feeding ourselves according to external cues – the clock, the amount of food on our plates, a rigid dieting plan, etc. – goes against our bodies' natural instincts and triggers a primal drive to overeat.
So listen to your body (really listen), and when you're physically hungry, eat! And when you feel full, stop. And, as often as possible, eat REAL food, not food-like products that your body can't process or identify.
2. Distract your emotional hunger – Eating to feed a feeling, and not a growling stomach, is emotional eating. Emotional hunger sneaks up on you out of the nowhere, and often wants something specific (BBQ potato chips, mashed potatoes, ice cream) and right now.
Before you dive into that tub of ice cream, delay the binge for 15 minutes. It's important to examine how you feel right before you emotionally eat (really allow yourself to FEEL the emotions – digging into a feeling can give you the info you need to handle it without the crutch of food.), and then do something else instead. Something pleasurable. Call a friend, curl up on the couch with a book, watch a favorite movie, or whatever.
If after the allotted time you still want the ice cream, go for it, without guilt or shame (see Daily Habit 1). That's hard to do, I know. But trust me, if you say you're giving yourself permission to have the ice cream, but your subconscious detects otherwise, the 15-minute delay is not going to work.
You have to believe deep down that simply delaying the binge by fifteen minutes is a victory. And it definitely is! Combine this method with Daily Habit 1, and I promise that eventually you'll be passing on the emotional binge, more often than not.  
(Read Intuitive Eating and read this article NOW)
Daily Habit 4: Meditate
Meditation is not some woo-woo relaxation technique; it's a powerful tool for real and lasting transformation.
According to neuroscientist Joe Dispenza, "The true purpose of meditation is to get beyond the analytical mind and into the subconscious mind so you can make real and permanent changes."
Changing your diet without also changing your mind is a huge (HUGE) weight loss mistake. In fact, breaking through resistance and releasing limiting emotions is the critical first step of my Smaller Size Bigger Life weight loss program.
Try this: Couple your lifestyle changes with Kelly Howell's fantastic Slim Naturally Brain Sync program. You'll imprint new beliefs that will immediately and positively impact your life and eating habits. Even just 10 minutes a day will make a big difference.
(Read Breaking The Habit of Being Yourself)
Daily Habit 5: Move Your Body  
Move your body everyday – not because it will help you lose weight, but because it will make you feel much so better! It boosts your mood, relieves stress, and it sharpens your intellect. 
And movement in your body WILL create movement in your life. No doubt about it.
But here's the most important part: Find something you LOVE to do. 
Do you know people who, despite their hectic schedules, never miss a Zumba or yoga class? Do you have a friend who's always raving about some new activity? They don't have more willpower than you do; they've just found their exercise groove or sweet spot. And you can too.
Test things out until you find something that clicks. You'll know when you've found it cause it won't even feel like exercise… it will feel like fun!  
I like to mix things up – rollerblading, hiking, snow boarding, dance classes, Shrink Session, and more – I'm constantly trying new things. But simply taking a walk outside is my daily go-to. You don't have to do Crossfit or boot camp or P90X (unless of course that's what you LOVE to do). A twenty minute walk on your lunch break still gets you moving!
(Read Spark: The Revolutionary New Science of Exercise and the Brain)
In the comments below I'd love to know what you're doing to make 2014 a healthy and happy year!
Much love,
Heather