20 Super Simple Ways To Release Fear And Weight
When women come to me to lose weight they're usually full of fear.
They fear that their bodies are broken. They fear that they'll be stuck in a body they hate forever. They fear that they'll have to give up all their favorite foods to lose weight. They fear that happiness is just not in the cards for them.
Some women fear failure, while others fear success.
All of them fear that they're just not good enough. I have that fear too. We all do! And while the "not good enough" fear is actually quite normal, letting it stop you from reaching your goals is a tragedy.
Breaking free from the fears that are blocking your success is a critical part of my Smaller Size Bigger Life weight loss program.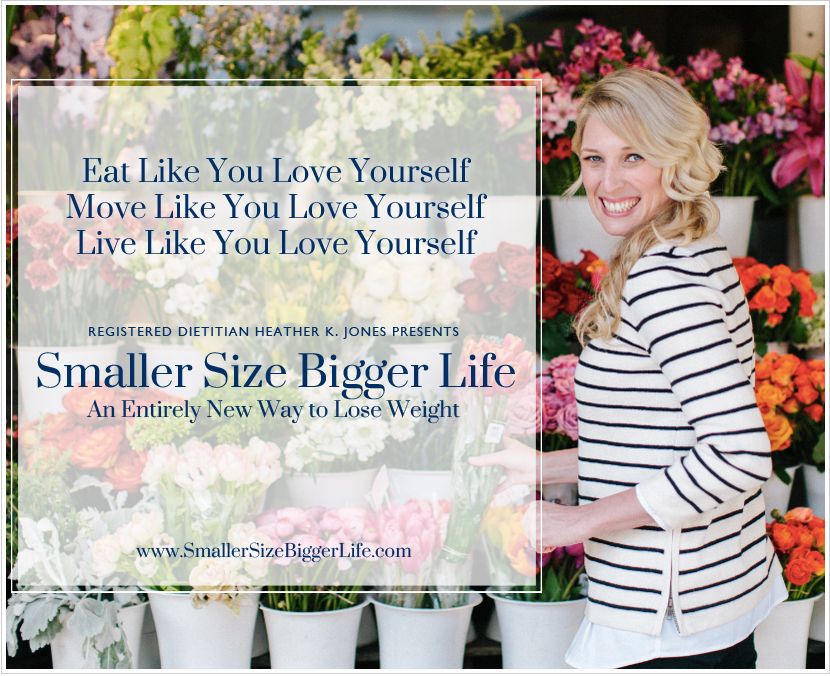 But an easy and fast way to begin releasing your fears (and your weight!) is with simple daily acts of self-kindness.
Sure, diet and exercise is an important part of weight loss and healthy living, but learning to love yourself (not 20, 30, or 100 pounds from now, but right now) is just as important. Here's why…
What you focus on expands. Self-care is showing up for yourself with love and kindness on a moment-to-moment basis. And the more you act like you're worth it (and YOU are so worth it), the more you enhance your self esteem, the more your fears subside, and the more you feel driven to care for yourself.
More joy means less emotional eating. The more you fill your life with fun, self-care, and joy, the less you'll need to fill up on food for emotional fulfillment.
Less stress equals less weight. Stress has a huge (and I mean HUGE) impact on your health and your weight. Among other things stress slows your metabolism, intensifies cravings, and increases abdominal fat storage. So as daily joy increases, stress decreases, your body relaxes… and you lose weight.
One of my lovely readers emailed me that this is her self-appointed "Summer of Self." I LOVE that! And I think we should all join her.
Here are 20 easy, breezy ways to live like you love yourself this summer…
1. Buy yourself fresh flowers. This is a totally affordable and uplifting way to show up for yourself.
2. While you're brushing your teeth think of two things you really like about yourself. Are you generous? Do you have beautiful hair? Maybe you're an awesome listener. Try to come up with different ideas each day.
3. Use healing affirmations to focus your mind. Learn how here. Nothing will make you feel better faster, seriously.
4. Get outside and reconnect with nature. Even just ten minutes on a park bench or in a garden will sooth your spirit.
5. Drink lots and lots of water.
6. Listen to calming chant music while you cook, fold laundry, or do other house chores – check out my favorite chant CD here.
7. While taking your morning shower think about the kind of day you'd like to have. Try picking a positive word or an affirmation for each day.
8. Take two minutes and write down three things you're thankful for today. I love this simple and modern gratitude journal.
9. Take a long, luxurious bath. Use candles, fluffy towels, relaxing music, and bath salts – the whole shebang. This is my favorite de-stresser ever.
10. Start your day with a delicious and nourishing green smoothie. You'll find tons of recipes here.
11. Indulge in a "beach read." Forget the heady and heavy stuff and just pick up something light and uplifting.
12. Have a cup tea while listening to rainy mood and reading said indulgent beach read. Heaven.
13. Tune-in to FREE Hay House Radio. My absolute favorite show is Coach On Call with Cheryl Richardson. (Pssst, I'm giving away Cheryl's audio book The Art Extreme Self Care on Facebook – go here to enter to win!)
14. Notice and celebrate your small successes. Keep a daily success journal (here's a good one) to help you stay focused on all the things you're doing right.
15. Listen to an empowering audio book on your commute to work. Try this one, or this one, or even this one. Or this one I'm giving away on Facebook.
16. Quiet your mind. Even just five minutes a day makes a big difference. Try the guided imagery techniques in this fantastic (and free!) MP3.
17. Say no if you're just not in the mood to go out to lunch, grab a drink, or have people over. Take time for yourself when you need it.
18. Visit your local farmers market and load your fridge with seasonal fruits and veggies. If you keep good food in the kitchen, you'll eat good food. Need some new recipe ideas? Search the massive Skinnytaste database here.
19. Take five deep breathes before you start eating. Life changing.
20. Pull up a happy memory and take five minute to relive it. Go through the feelings you experienced and the details of that moment.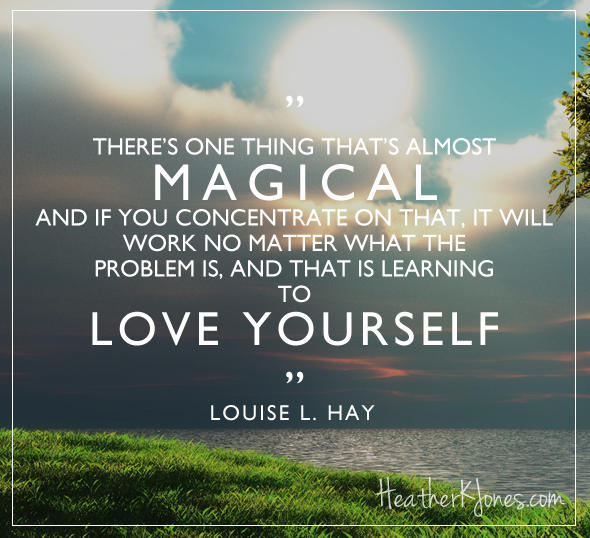 Often we think we can't be happy until we lose weight. But we have it all backwards – concentrate on being happy and kind to yourself right now, right here in this moment, and the pounds will naturally start to melt away. Try it and see what happens. 
I'm curious, what are your biggest weight loss fears or negative thoughts? And how can you start showing up for yourself right now? I'd love to hear from you!
Tons of love,
Heather
P.S. Smaller Size Bigger Life is an online weight loss program for women that focuses on freedom and flow instead of diets (ugh) and deprivation (no thank you!). You can jump on the waitlist here.