Special Investigation: The Gracious Pantry
Gracious: characterized by charm, good taste, and generosity of spirit; "gracious even to unexpected visitors"; "gracious living."
I am in love with the clean recipes from The Gracious Pantry! Clean eating (i.e., less chemicals and more whole foods!) is the ticket to a healthy life, and Tiffany, a stay-at-home mom and cookbook author, graciously shares her clean–cooking creations in her charming blog. From tempting treats to crock pot dinners, if you're looking to feed your family with yummy and good-for-you foods, Tiffany's got you covered! Here are some of her top tips and tricks, from her (clean) kitchen to yours.
Where do you turn for cooking inspiration?
Honestly, my inspiration comes from desperation. It's that never-ending question: "What's for dinner, Mom?" that gets me every time. And when I'm truly stuck, I use The Flavor Bible. I don't think I could produce the number of recipes that I do without it. It's an amazing book.
How does eating clean help you track/control your weight?
I base my portion sizes on my palm or cupped hands. Protein should be the size of my flat palm, grains, fruits or starchy veggies the size of one cupped hand, and veggies the size of two cupped hands. It's great because it's really the perfect way to portion for any person. Your palms are always the right size for you, so your portions will always be correct. It's a wonderful method and really helps me keep track of intake.
What are some packaged (but still clean!) products you turn to in a crunch?
I do buy my spaghetti sauce in a jar (Trader Giotto's Traditional Marinara Sauce), and I get snacks for my son at Trader Joe's. He loves the baked plantain chips and I'm guilty of enjoying them on occasion as well. I also love Lara Bars and Pure bars.
What are some of your personal go-to Gracious Pantry recipes?
Taco Salad (hands down the most often-made recipe in my kitchen!), Hummus (I honestly can't live without it) and Smoothies (especially green smoothies with spinach!).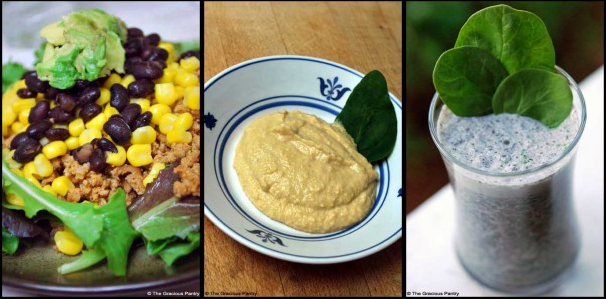 What are a few clean cooking tips everyone should know?
Whole-wheat pastry flour is a fabulous exchange for white, A/P flour. Also, you can "fry" many things (including onions, ground turkey meat, and chicken) in a pan using low-sodium chicken broth instead of oil.
What's your personality Diet Type?
Diet Planner: I do best when I am organized. I thrive on consistency, structure, and routine. I stick to my eating plan the best when I have a routine to follow. And I fall off track easiest when my routine has been upset somehow.
For help building a healthy lifestyle that works for YOU, take my free 3-minute personality Diet Type quiz and find out how to use the power of your personality type to help you reach your goals!