How To Eat Like You Love Yourself
If you've been with me for a while, you know I believe that long-lasting weight loss is NOT about dieting or deprivation. Slimming down, improving health, and living a happier and Bigger Life is about…
1) Understanding WHY you overeat and treating yourself with kindness (learn more here);
2) Learning HOW to eat intuitively and to trust and respect your body (find out how here);
3) Discovering WHAT foods help you drop pounds, feel energized, and keep your soul satisfied.
And (delicious, real, and good-for-you) food is what this post is all about. Because food is a seriously important part of self-care. In fact, one of the BEST ways to love and respect yourself is to provide your body with nutrient-rich foods that make you feel your best.
Food is also the universal connector—I mean, we all have to eat, right!? We all celebrate with food, socialize with food, and fuel ourselves with food. Food is a life-giving necessity and eating shouldn't be complicated. Or boring. Or overwhelming. It should be simple. And nourishing. And enjoyable.
My own relationship with food has changed drastically over the last 10 years (you can read my story here), and I'm so thankful for that.
So today I'm sharing all of my (super-helpful and super-awesome) real-food resources and tools with you. Here's what you need to know (and do) to start eating like you love yourself…
READ THIS EXCELLENT BOOK

Food Rules by Michael Pollan
"Eating doesn't have to be so complicated. In this age of ever-more elaborate diets and conflicting health advice, Food Rules brings a welcome simplicity to our daily decisions about food." If you only read one book about nutrition and food, THIS is the one to read, period.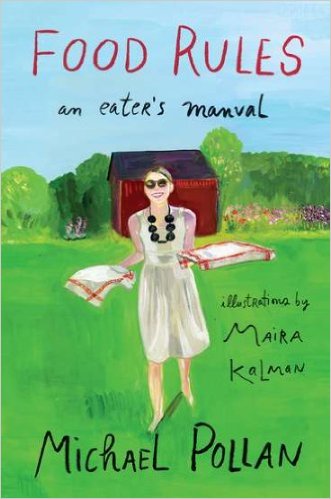 Also check out Michael Pollan's website for tons of helpful info and answers to commonly asked food questions such as…
Organic food is more expensive; is it worth the money?
Most of us have hectic schedules and every minute counts. How do we find the time to cook?  
EAT (MOSTLY) REAL FOODS
Real foods are those that are unprocessed, unrefined, whole and fresh, free of additives, colorings, flavorings, sweeteners and hormones. They're as close to their natural state as possible.
And when you eat real foods (rather than highly processed ones) you'll notice that you just feel SO MUCH better, as these are the foods that provide your body with what it needs to function at its best.
While there are no hard and fast real food rules, my friends over at 100 Days of Real Food have a great list of good-to-eat foods that I love…

In a nutshell, you clean up your diet by eating MORE vegetables, fruits, and whole grains, plus healthy proteins and fats, and LESS refined grains, added sugars, salt and unhealthy fats.
It's also important to choose foods that are good for you AND good for the environment (see sustainable food links below). And if you eat meat please consider only eating meat from humanely-raised animals. You can find out more about why and how to do this in these links…
Animal Welfare Approved audits and certifies family farms.
Certified Humane Raised & Handled is a food labeling program dedicated to improving the welfare of farm animals.
Mercy For Animals and Farm Sanctuary work to end cruelty to farm animals.
So what about take-out pizza, peanut butter cups, donuts, and a zillion other not-so-great-for-you foods? Look, it's all about eating real food in the real world. Here's what I do…
Most of the time (maybe about 85% or so) I eat nutrient-dense, clean foods I love (I shop at farmers' markets, I drink green smoothies, I cook delicious real-food recipes, and I search out healthy foods everywhere I go). And the rest of the time, well, I just don't worry about it. And neither should you.
Clean-eating advocate Michael Pollan (see his above-mentioned book) really says it best…
"Obsessing over food rules is bad for your happiness, and probably for your health too. Our experience over the past few decades suggests that dieting and worrying too much about nutrition has made us no healthier or slimmer; cultivating a relaxed attitude toward food is important."
Just do your best, and forget about the rest. Also know that once you get back in sync with your hunger (learn how to do that here), you'll be able to eat anything (yes, anything) you want… and still lose weight.
But you'll reach your goal weight a lot faster, and you'll feel 1,000 times better, if you nourish yourself with whole and delicious real foods more often than not.
LISTEN TO YOUR (VERY WISE) BODY
As a dietitian, a question I get asked a lot is this: What's the best eating style for health and weight loss? Is it vegetarian, vegan, dairy-free, gluten-free, sugar-free, Paleo, raw-food, pescatarian or [insert any other eating style or specific diet here]?
My answer is always the same: Only YOU know which foods are right for your body. You can absolutely work with an integrative nutritionist (I suggest dietitian Danielle Omar) to help you get clear on a nutrition strategy, but you and you alone are the real expert of your body, and you are always your own best teacher.
A part of nourishing yourself from a place of love is listening to your body and noticing how it feels and reacts to your food choices. Start to make connections by tuning in to how different foods affect your mood, energy levels, and cravings, and pay attention to how your body feels when you eat (or don't eat) certain foods.
Your body is communicating with you all the time, and it's up to you to slow down and pay attention to its messages.
EAT LOCALLY-SOURCED AND SUSTAINABLE FOOD
Sustainable food is better for the environment, better for you, and better for the world. And local food is fresher, seasonal, and it tastes SO much better than food that's been trucked or flown in from thousands of miles away.
Eat Well Guide—search over 25,000 hand-picked restaurants, farms, markets and other sources of local, sustainable food.
Local Harvest—find a CSA. CSAs (community supported agriculture programs) provide a direct link between local farmers and consumers by allowing members to purchase a share of a farmer's crop before it's produced each season.
Seafood Watch—how to buy seafood from sustainable sources.
Sustainable Table—an online directory of sustainable products in the U.S. and Canada.
At the very least, buy organic produce for the items on the following Dirty Dozen list…
The Environmental Working Group's Shopper's Guide to Pesticides identifies fruits and vegetables that have the highest (The Dirty Dozen) and lowest (The Clean Fifteen) pesticide residues. Switching to organic produce for the foods listed on The Dirty Dozen list can reduce the amount of toxins you consume on a daily basis by as much as 80% (80%, WOW!).
WATCH THESE EYE-OPENING FILMS
This documentary exposes the diet industry's strategies and secrets to keep people from losing and keeping off weight. This film reveals just how ruthless the dieting industry can be.
For most Americans, the ideal meal is fast, cheap, and tasty. Food, Inc. examines the costs of putting value and convenience over nutrition and environmental impact.
TAKE THIS LIFE-CHANGING PLEDGE 
Created by husband and wife team Jason and Lisa Leake, this pledge requires following their basic (above-mentioned) real food policies. This 10 day (or 100-day) challenge will give you a true sense of what it's like to go back to eating whole foods.
COOK YOURSELF HEALTHY (AND SKINNY!)
Cooking blogs that use real, fresh, and seasonal ingredients make eating well extremely easy! My absolute favorite blog is Skinnytaste. I've been working with Gina Homolka, the very talented creator of Skinnytaste, for a few years now (I'm the Skinnytaste dietitian), so I know first-hand just how awesome her food is.
Gina's recipes are exactly what good food should be – clean, nutrient-loaded, and super tasty. Search her extensive database here, or pick up a copy of her cookbook…
The Skinnytaste Cookbook by Gina Homolka (BTW, today on Facebook I'm giving away 2 FREE copies of this cookbook. Go here to enter to win.)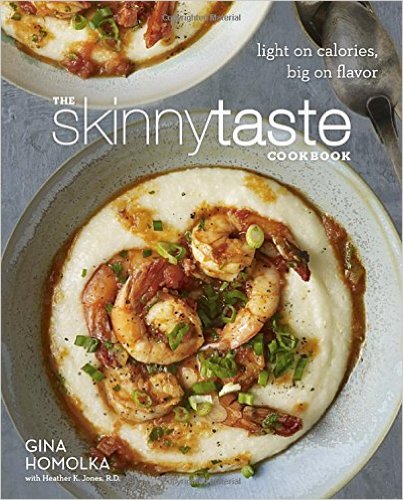 For even more (and I mean lots and lots more!) clean and yummy cooking inspiration, here are a few other blogs I use…
TRY THESE TIME-SAVING MEAL PLANNING TOOLS
"The Fresh 20 is a meal planning service, created for busy families and singles who want to eat fresh, healthy meals, and save time and money. The meal plans rely on simple, healthy, homemade lunches and dinners using just 20 fresh, seasonal ingredients per week."
"We believe our physical and emotional health is directly tied to what we eat. Plan to Eat was born from our desire to eat real food — great food — prepared at home, together as a family."
"We have the resources you need to fill your freezer with a fresh variety of meals for you to enjoy when you want, and with the same convenience as the freezer aisle. We have two membership options for you to get started and on the path to improved eating!"
TAKE THIS CLEAN-EATING PROGRAM 
Nourish: 21 Days of Clean Eating by Danielle Omar
In this fabulous program by registered dietitian Danielle Omar, you'll get clear on which foods DON'T work for your body – which foods cause you to feel bloated, sluggish or lethargic. And which foods DO work for your body – those foods which give you optimum energy, kickstart changes in your body, and reduce your waistline.
This program will also help you get clear on any hidden food sensitivities you may have that could be causing weight loss resistance.

SHOP AT THIS FANTASTIC ONLINE MARKET 
This place is kinda amazing. Thrive Market is an online shopping club on a mission to make healthy living easy and affordable for everyone.
Thrive Market members can buy the best-selling healthy foods and natural, wholesome products in everyday sizes, always at 25-50% off retail prices, delivered right to their door. And for every paid membership, Thrive Market donates a free membership to a family in need.
Remember, no matter where you are on your food journey, please please please be gentle with yourself and tell yourself (often) that you're doing the best you can. We're ALL a work in progress.
Love and really good food,
Heather