How To Eat Healthy When You're Super Busy
If you've been with me for a while, you've probably heard me talk about how weight loss (and living a BIGGER and happier life) is NOT about dieting or deprivation. It's about…
1) Understanding WHY you overeat and treating yourself with kindness (learn more HERE);
2) Learning HOW to eat intuitively and to trust and respect your body (find out how HERE);
3) Discovering WHAT foods help you drop pounds, feel energized, and keep your soul satisfied (find out more HERE).
Food is a seriously important part of self-care, and one of the best ways to love and respect yourself is to provide your body with the nutrient-rich foods it needs to survive and thrive.
So today I'm sharing another week of my meals and food prep. This is exactly what I ate, and exactly what I prepped, for one week.
(You can check out my first week of food prep and easy meals HERE, and you'll find my second week HERE.)
When people ask me for healthy eating advice (and as dietitian, this is something I get asked a lot!) once-a-week food prep is always my first recommendation.
That's because you can buy yourself a whole week of fuss-free and good-for-you breakfasts, lunches, snacks, and dinners, by investing a few hours on the weekend preparing for the week ahead.
It's easy, effective, and seriously sanity saving. Truly.
Just keep in mind that the KEY to food-prep success is flexibility. I never create a set meal plan; I just prep a bunch of meals that I can mix-and-match throughout the week. That way when things come up (and you know they always do!) I can just roll with it.
(Go HERE to read my top three food prep and eating tips.)
All of the recipes in this week's meal plan are from my absolute favorite cooking blog, Skinnytaste. I've been working with Gina Homolka, the very talented creator of Skinnytaste, for a few years now (and I'm the nutrition expert for the New York Times best-selling The Skinnytaste Cookbook), so I know first-hand just how awesome her food is.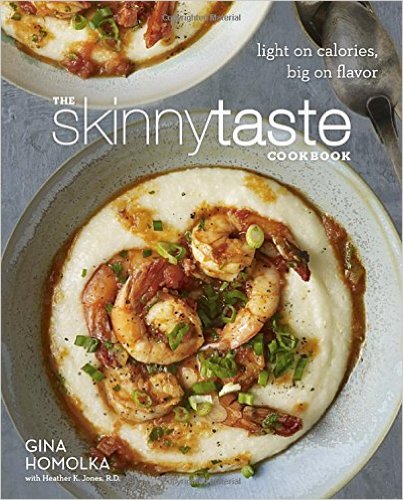 Gina's recipes are exactly what good food should be – clean, nutrient-loaded, and super tasty.
And I'm excited to announce that I'm currently working on the second Skinnytaste cookbook!
The new cookbook will be available in the fall, and it will feature both easy recipes ready in less than 30 minutes and slow cooker recipes. I can't wait to share this with you.
In the meantime you can pick up a copy of the first Skinnytaste book HERE and search the massive online Skinnytaste recipe database HERE. Following are some of my favorite Skinnytaste dishes…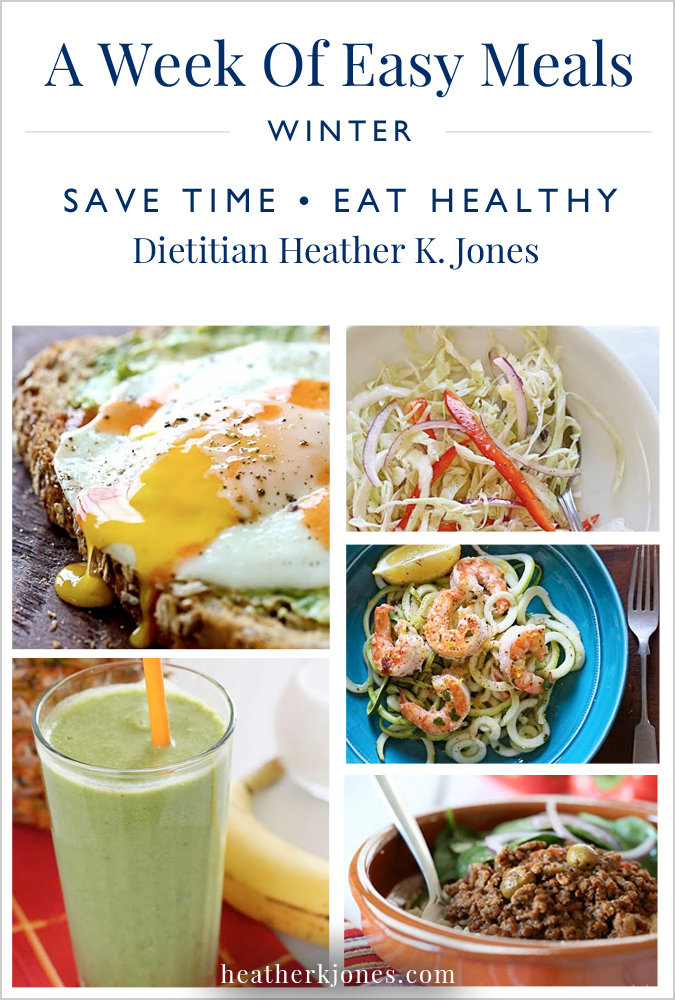 Note: I cook for just two people (me and my fiancé Aaron), so 1 recipe yields 2 or 3 meals for us. If you're feeding more or less, just adjust your menu and prep as need be. Also, obviously, use the freshest and best ingredients you can find. Check out this must-read book for more on this.
_______________________________________________________________________
BREAKFAST MEALS
Avocado Toast With Sunny Side Egg from Skinnytaste
Whole grain toast with mashed avocado, a runny egg and a few dashes of hot sauce – only 5 ingredients, 5 minutes to make, doesn't get better than that!
Tropical Green Smoothie from Skinnytaste
This smoothie made with pineapple, shredded coconut and bananas, spinach, coconut milk and Greek yogurt, tastes like a tropical island in a glass. And I always feel good when I start my day with greens!
Coconut & Raisin Oatmeal
This is my go-to winter oatmeal. Quick-cooked oats topped with raisins, unsweetened shredded coconut (love this Trader Joe's brand), chopped pecans, a sprinkle of brown sugar and a splash of cream.
_______________________________________________________________________
LUNCH & DINNER MEALS
Shrimp Scampi Zoodles from Skinnytaste
If you prep the zucchini noodles (see Meal Prep below) this simple dish with lemon, garlic and shrimp is ready in minutes. So easy and so delicious!
Slow Cooker Picadillo & Quick Cabbage Slaw from Skinnytaste
Picadillo, a Cuban dish made with ground beef and a sauce of tomatoes, green olives, bell peppers, cumin, and spices is one my all-time favorite Skinnytaste dishes. I make this at least once a month. It's an ideal make-ahead meal (see Meal Prep below) and it pairs perfectly with this Quick Cabbage Slaw.
Butternut Squash And Spinach Lasagna Rolls from Skinnytaste
This is another make-ahead Skinnytaste dish that I just love (see Meal Prep below). Using Trader Joe's Butternut Squash cuts back on the prep time considerably. I pair this with a simple salad of greens, goat cheese, shredded carrots, pumpkin seeds, and oil & vinegar sprinkled with dried oregano, garlic powder and salt & pepper.
Avocado Egg Salad from Skinnytaste
This tasty egg salad packed with healthy fats from the avocado, is an easy go-to lunch recipe, especially if you have hard-boiled eggs in the fridge (see Meal Prep below). I serve this open-faced on a piece of toasted whole grain bread with watercress or greens.
Stove-Top Minestrone Soup from Skinnytaste
Perfect for lunch or dinner, this hearty vegetable-packed soup is so satisfying on a cold winter day. I make this on my prep day (see Meal Prep below), but I wait and cook the pasta and add it to each bowl right before I serve it (that way the pasta is al dente). I serve this soup with whole-grain crusty bread or a simple salad (see above).

_______________________________________________________________________
SNACKS & TREATS

Winter Fruit + Hard Boiled Egg
Larabars (I always keep these in my purse.)
Dark Chocolate (I eat chocolate on a daily basis.)
Tropical Green Smoothie from Skinnytaste
Yogurt + Winter Fruit + Nuts + Honey
_______________________________________________________________________
SUNDAY MEAL PREP

Make the Picadillo in this recipe. (Get this into the slow cooker before you do anything else.)
Make the Minestrone Soup recipe. (Get the soup cooking before you move on to the rest of the food prep.)
Prep the Butternut Squash And Spinach Lasagna – I assemble the entire dish, cover it in foil, and store it in the fridge until the night I cook it.
Prep the zoodles for this recipe. (Plan on one whole spiralized zucchini per serving. In a sealed airtight container, zoodles will last up to 5 days in the fridge.)
Hard boil eggs for this recipe and snacks.
Prep the brown rice for this recipe.