Lasting Weight Loss Comes Down To Just This ONE Thing
After 20 years working as a dietitian in the weight loss business (as well as overcoming my own struggles), I can tell you with confidence that there is ONE thing that you must have for lasting success.
It is a supportive mindset.
In fact, shifting your mindset from self-sabotage, criticism and procrastination into inspired, consistent and joyful action is the ONLY way to create lasting change in your life.
And that's why I've created this FREE Smaller Size Bigger Life Summer Session. To show you EXACTLY how you can do this.
The FREE Summer Session starts on August 1st, and I'd love to see you there! Grab your spot NOW by clicking HERE.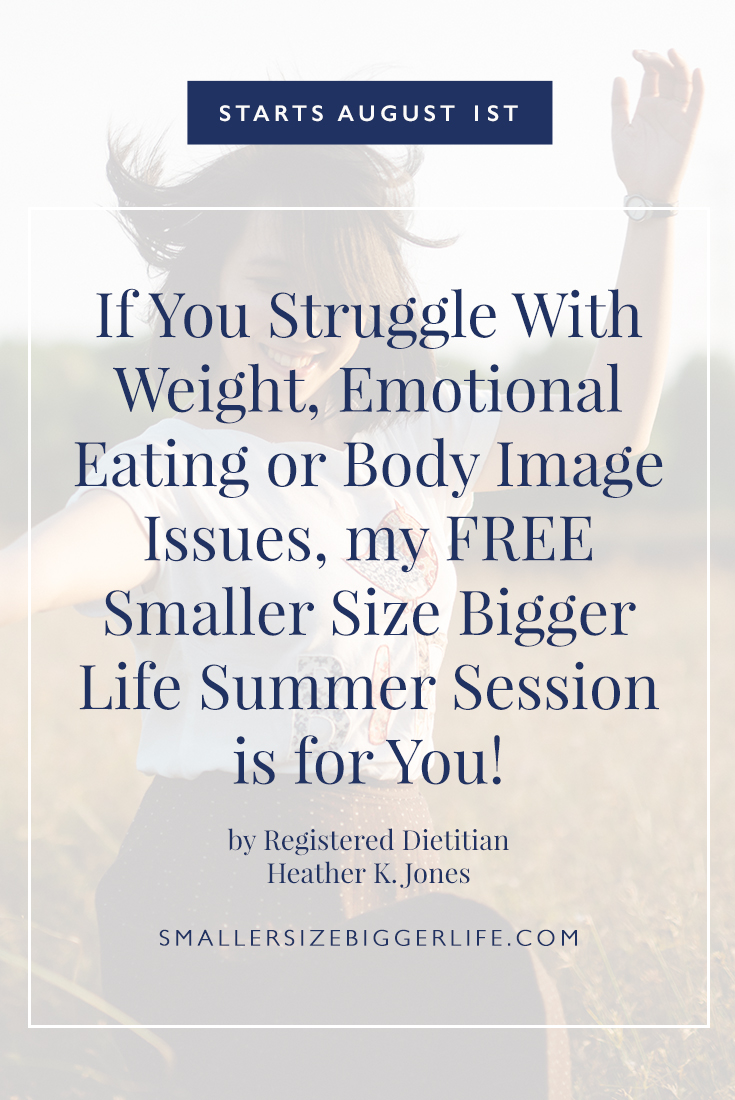 And here are 10 ways you can start shifting your mindset TODAY.
1. Take full responsibility for your life. Remember how capable and amazing you truly are.
2. Don't dwell on the past. Forgive yourself and just let it go. You did the best you could at the time, period.
3. Refuse to criticize yourself. Become your own best friend, and recognize that you DO have the power to make positive changes in your life.
4. Don't compare yourself to anyone else. Realize that your path to success will be unique.
5. Get curious about your emotional connections to food. Because if your food craving doesn't come from physical hunger, then eating is not going to satisfy it.
6. Highlight and appreciate all that is already awesome in your life, and all that makes you so uniquely and wonderfully you. Recognize that you are so much more than your body.
7. Stop torturing yourself with exercises you despise. Find ways to move that feel good. Make it FUN.
8. Gently release your negative mental patterns. Nourishing your mind with compassionate and supportive thoughts is just as important as nourishing your body with nutrient-rich whole foods.
9. Wear clothes that make you happy. Stop waiting on the weight. Treat yourself with respect starting NOW.
10. Be easy with yourself as you discover new ways of thinking, eating and living. Support yourself, praise yourself, and ask for help when you need it.