Create A Healthier And Happier Relationship With Food
Instead of dieting, depriving and or making yourself crazy with an all-or-nothing eating mind-set, try this: Build a better relationship with food, one day, one meal, and one moment at a time.
Because you absolutely have the power to …

* Pay attention to what you think and say about food, weight and your body, and to start consistently choosing supportive thoughts. (I have a free challenge HERE that will help you do exactly this.)
* Be honest with yourself about not only about what you eat, but also why you eat, and to stop eating mindlessly when you're bored or just out of habit.
* Honor and FEEL your emotions instead of ignoring them or burying them with food. (For more help with emotional eating sign up for my free class HERE.)
* Learn more about clean eating and cooking, and choose better-for-you real foods more often than not.
* Tune out what everyone one else thinks is the right weight-loss plan for you, and tune in to what you intuitively know you need to do and eat to feel your best. (Learn more about intuitive eating HERE.)
* Make food choices that honor your health, your hunger, and your taste buds.

And once-a-week meal prep is an awesome tool that will help you eat healthy AND save time AND eat real foods AND form a healthier and much, much happier relationship with food.
By investing a few hours on the weekend preparing for the week ahead, you can buy yourself a whole week of fuss-free and good-for-you breakfasts, lunches, snacks, and dinners that will make healthy (and waist-friendly) eating a no-brainer.
So today I'm sharing another week of my meals and food prep. This is exactly what I ate, and exactly what I prepped, for one week. I never create a set meal plan; I just prep a bunch of meals that I can mix-and-match throughout the week. That way when things come up, I can adjust as need be.
(You'll find additional food prep posts HERE, HERE and HERE. And go HERE to read my top three food prep tips.)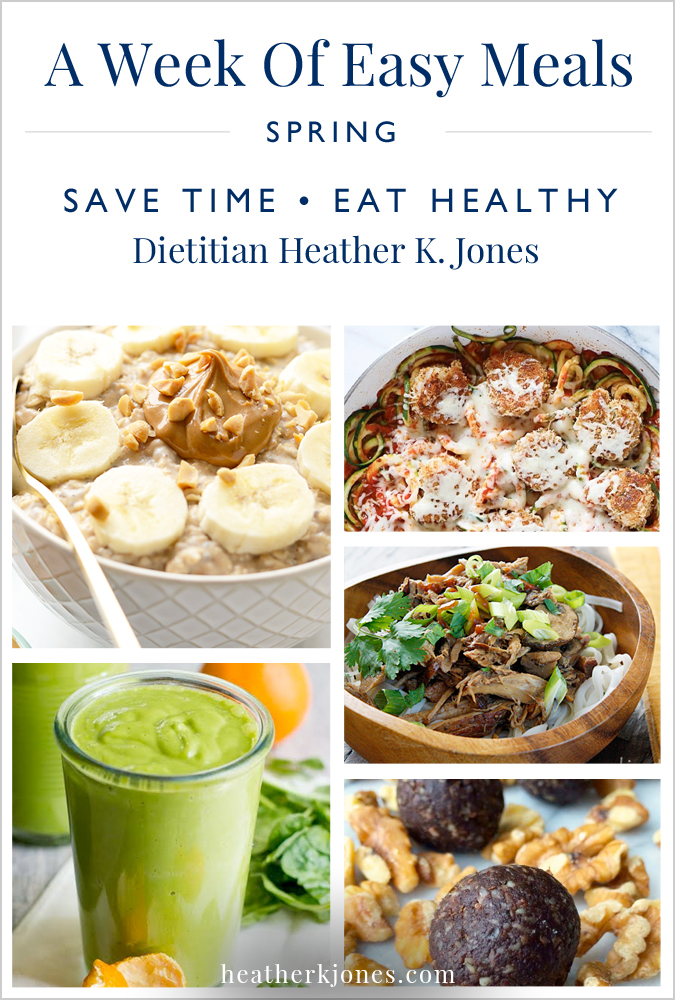 Note: I cook for just two people (me and my fiancé Aaron), so 1 recipe yields 2 or 3 meals for us. If you're feeding more or less, just adjust your menu and prep as need be. Also, obviously, use the freshest and best ingredients you can find. Check out this must-read book for more on this.
_______________________________________________________________________
BREAKFAST MEALS
Peanut Butter Banana Overnight Oats from Fit Foodie Finds
As the weather get warmer, I swap my hot bowl of oatmeal for cold overnight oats. If you haven't tried overnight oats yet you REALLY should. I'm obsessed. This simple recipe from Fit Foodie Finds is my hands-down favorite, but you'll find lots of other options HERE.
Avo Banana Kale Smoothie from Simple Green Smoothies
The avocado in this smoothie creates a super creamy texture, and the healthy fats also make it a lot more satisfying. And I always feel good starting my day with greens! Another avocado smoothie to try is this one from Back to Her Roots. BTW, if you're new to green smoothies, go HERE to learn the basics. (Tip: I use Trader Joe's Baby Kale in my green smoothies because the mild flavor in these greens doesn't overpower the other ingredients.)
Make-Ahead Fruit And Yogurt Parfaits from The Lemon Bowl
These parfaits from Liz at The Lemon Bowl are perfect for prepping on Sunday and enjoying throughout the week (see Meal Prep below). Also check out this post from Liz – 7 Ways To Lose Weight Without Trying – so good.
_______________________________________________________________________
LUNCH & DINNER MEALS
Crock Pot Asian Pork With Mushrooms from Skinnytaste
I've been working with Gina, the talented creator of Skinnytaste, for a few years now (I'm the nutrition expert for the best-selling The Skinnytaste Cookbook), so I've tried a TON of Skinnytaste recipes, and this is still one of my favorites. It's the perfect make-ahead recipe, and since it makes a ton, you can freeze half and still have lots for leftovers.
Shrimp Zoodles Parmesan from Skinnytaste
This easy and delicious shrimp dish made with zucchini noodles is ready in under 30 minutes. If you prep the zucchini noodles (see Meal Prep below) it's comes together even faster.
Grilled Maple Dijon & Chili Chicken Drumsticks from Cookin' Canuck
Forget chicken breasts… I'm all about drumsticks! I grill these on my prep day (see Meal Prep below) and eat the leftovers for lunch during the week. You can serve this with a salad or just about any veggie side dish. (You can read the inspiring weight loss and health journey from Dara, the creator or Cookin' Canuck, HERE – love this.)
Spiralized Greek Cucumber Salad from Skinnytaste
Fresh cucumber, tomatoes, bell pepper, olives, red onion, oregano, lemon juice, olive oil and fresh feta – it's filling, high in fiber and protein, and perfect for lunch or dinner. If you're not spiralizing (AKA making noodles out of vegetables) yet, you absolutely should. The site Inspiralized is packed with recipes and tips, and HERE you can read about how the creator of the Inspiralizer got healthy and lost 25 pounds thanks to veggie noodles!
Spicy California Shrimp Stack from Skinnytaste
These EASY shrimp stacks will definitely satisfy a sushi craving! Layered with cucumber, avocado, shrimp, brown rice and  topped with a spicy mayo – YUM. Using Trader Joe's Frozen Brown Rice makes this even easier to prepare.
_______________________________________________________________________
SNACKS & TREATS

Fruit + Hard Boiled Egg
Larabars (I always keep these in my purse.)
Dark Chocolate
5-Ingredient Chocolate Brownie Energy Bites from The Lemon Bowl (These naturally sweetened and protein-packed energy bites taste just like a chocolate walnut brownie!)
Avo Banana Kale Smoothie from Simple Green Smoothies

_______________________________________________________________________
SUNDAY MEAL PREP

Get the drumsticks in this recipe marinating. (Do this before you move on to the rest of the food prep).
Make the Asian Pork with Mushrooms. (Get the pork into the slow cooker before you move on to the rest of the food prep.)
Prepare the Make-Ahead Fruit And Yogurt Parfaits.
Make the Chocolate Brownie Energy Bites.
Hard boil eggs.
Spiralize the zucchini noodles for this recipe. (In a sealed airtight container, zucchini noodles will last around 4 or 5 days in the fridge.)
Grill the drumsticks that have been marinating.
Infuse a pitcher of water. (In spring and summer I keep my fridge stocked with fruit-infused water. Love these combos from Back to Her Roots.)