How To Overcome Fear And Self-Loathing
I have a question for you…
When was the last time you said something demeaning or insulting to yourself?
The last time you criticized yourself for the way you look?
The last time you scrutinized your body with disgust or disrespect?
Or the last time you told yourself that you're ugly, stupid, unlovable, or unworthy?
I'm guessing it was probably not that long ago… maybe even just a few minutes ago.
And when was the last time you said something compassionate or kind to yourself?
The last time you praised yourself?
The last time you appreciated something you did or said?
Or the last time you noticed how awesome, incredible, and magnificent you are?
Because YOU are. Truly. We all are. And we forget that when we cloud our daily thoughts with incessant criticisms, comparison, and judgments.
Please do me a favor and watch this 2-minute video from Dove France. This incredibly impactful commercial will open your eyes to just how violent our thoughts about ourselves truly are. I was floored the first time I saw this…
"If it's not acceptable to say it to someone else, why say it to ourselves?"
Take a minute to really let that sink in. Would you say it to your daughter? Nope. Would you say it to your sister, your friend, or your co-worker? Nope. Would you say it to a stranger? Nope. So why in the wild world do you think it's OK to say it to yourself?
I know it can be incredibly challenging to feel good about your body, especially if you struggle with weight and body image issues. I get it! But when you put your attention on what you hate about yourself and your body, and when you continuously attack yourself with abusive thoughts, you just create more feelings of fear and anxiety. This not only steals your daily joy, it also keeps you stuck, exhausted, and totally stressed out.
The truth is this: Self-worth is not something some people are just born with, or something you will magically obtain once you reach your ideal weight. Self-worth is something we cultivate and practice on a daily basis. And shifting your thoughts from fear to love will have a huge (and I mean HUGE) effect on your happiness and your weight loss.
In fact, the absolute BEST way to develop a healthy relationship with your body is to banish the body shaming and to start the daily practice of empowering yourself. And I have a 30-day Loving Kindness Challenge that will help you do exactly that.
This Challenge will help you 1) raise your awareness around your thoughts (often our negative thoughts are so habitual we don't even notice how often we attack ourselves), and 2) shift your perception to a much more loving perspective.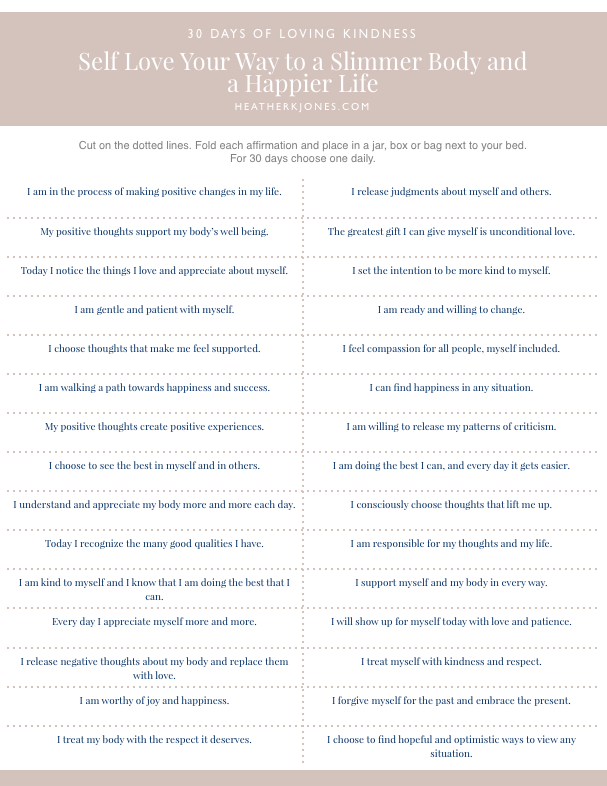 This Challenge is super easy AND super effective. Click on the above link, print out the graphic, and cut on the dotted lines. Fold each affirmation and place them a jar, box, or bag next to your bed. For 30 days choose one affirmation daily. Before you start your day (or even before you get out of bed!), clear your mind and just consider the affirmation you pulled for that day.
Allow the idea to really soak in, and then set the intention to make this your mantra for the day. Also set the intention to pay closer attention to your thoughts, and every time you catch yourself saying something hurtful or hateful to yourself, just replace the negativity with your daily affirmation.
Throughout the day, repeat the affirmation often. You can use it as a mantra while you drive, walk, or do housework. You can post your affirmation to your computer or place it on a mirror. You can even set alarms on your phone to remind you to tune in throughout the day.
Once I became aware of my inner-critic and I started to replace my attack thoughts with supportive thoughts instead, it changed EVERYTHING (you can read my story HERE). I stopped looking for outside approval, and instead I looked inward for answers. I learned how to forgive myself, how to release my mountains of guilt and shame, and how to heal and deal in a much better way.
And if you've been trying to change your diet, your habits, and your life for many years, but find that you just keep getting in your own way, I guarantee you that this daily practice will have a profound impact on your life.
I'll be doing this challenge for the next 30 days, and I would love for you to join me. Your body deserves your love and respect, and you can (absolutely and positively!) change your life one beautiful thought at a time.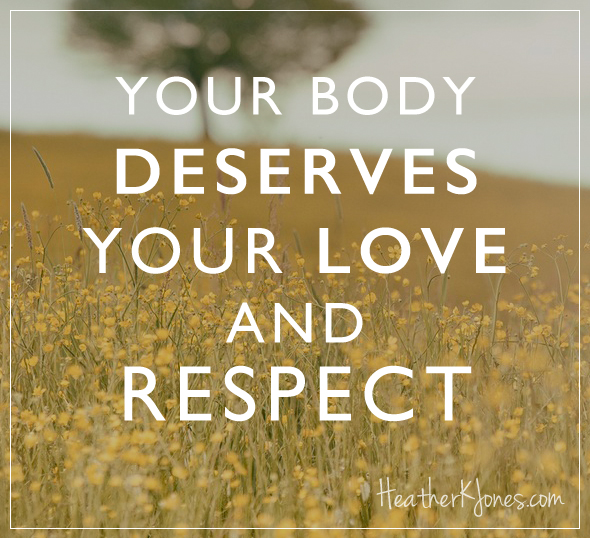 Please share this Challenge with a sister, friend, daughter, or co-worker who could use some help shifting her inner voice—the more we love ourselves and each other, the better!
With love and beautiful thoughts,
Heather