Think You're Too Busy To Eat Healthy? Try This …
Be honest: Raise your hand if you've ever said something like this …
 
"I want to eat healthier, but I don't have time to cook."
"I'd love to eat home-cooked meals made with whole foods, but there aren't enough hours in the day."
"I really want to eat better, I just don't have enough time."
Yup, my hand's raised, too. We've all been there, right? Busy is the new (not-so-healthy) normal, and it's all-too-easy to use busy-ness as a self-sabotaging excuse.
But the real (busy) truth is this: You define your priorities every single day by how you CHOOSE (yes, it's a choice) to spend your time. So let's try replacing "I don't have time" with "It's not a priority" – like this …

"I want to eat healthier, but it's not a priority."
"I'd love to eat home-cooked meals made with whole foods, but it's not a priority."
"I really want to eat better, I just haven't made it a priority."

Big difference, huh!? Once you choose to make eating better a priority in your life, you'll find a way to make it happen … no matter how busy you are.
Still, I know we all have a lot going on – balancing work, kids, family, friends, and more can leave us with little or no time to cook labor-intensive meals. I get it, truly.
But here's the good news, with a little planning and a few hours of preparation each week, you CAN get healthy meals on the table in a flash, and it's not complicated.
Simply streamline your week by prepping some of your meals ahead of time. It's easy, effective, and (SERIOUSLY) sanity saving.
By investing a few hours on the weekend preparing for the week ahead, you buy yourself a whole week of fuss-free and good-for-you breakfasts, lunches, snacks, and dinners.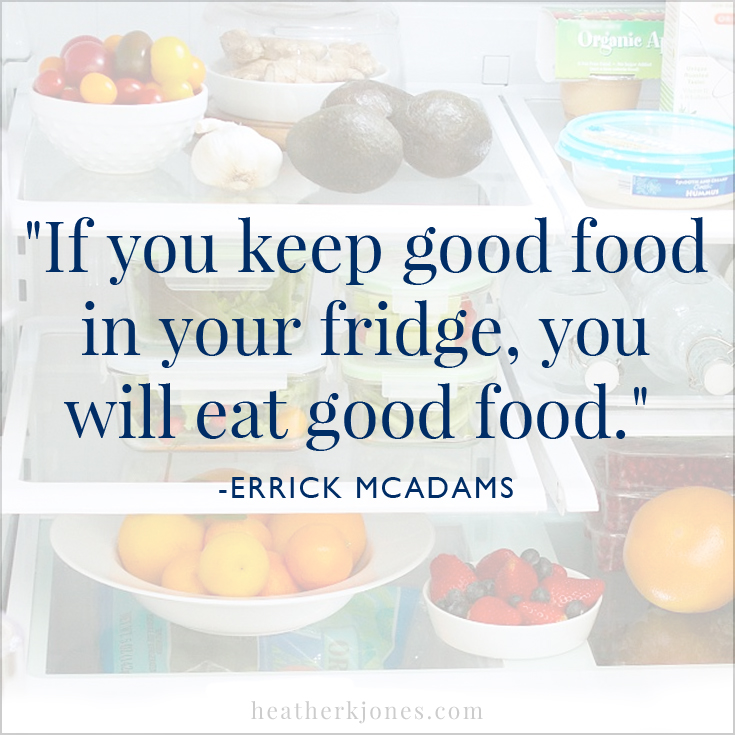 Remember, one of the BEST ways to love and respect yourself is to provide your body with nutrient-rich foods that make you feel your best (read more about how to eat like you love yourself HERE).
So today I'm sharing my own meals and food prep from a few weeks ago. This is exactly what I ate, and exactly what I prepped, for one week. Three quick things before we dive in…
1) Be Flexible. The key to food-prep success is flexibility. I never create a set meal plan; I just prep a bunch of meals that I can mix-and-match throughout the week.
That way when things come up (dinner at my sister's house, running into an impossible-to-resist food truck, an impromptu date night with Aaron, or whatever), I can just roll with it.
You can prep foods (such as beans, hard-boiled eggs, chopped veggies, and grains), you can batch cook (double recipes and freeze half for later), or you can prep meals the way I did below. It's totally up to you.
Try things out and see what feels right to you. Just don't get stuck in the biggest meal-planning mistake of being too rigid. Keep it loosey-goosey and just adjust as the week unfolds.
2) Cook Mindfully. Cooking can be just as enjoyable as eating if you let it. Here's how…
* Keep your phone out of the kitchen to minimize distractions. Same goes with the TV or any other tech devices. Make this YOUR time.
* Listen to calming music while you prep and cook for the week – check out one of my favorite chant CDs HERE.
* Stay present and try to focus on one task at a time before moving to the next one. This is challenging for me, for sure, but the more I practice this, the more I fall in love with cooking.
* Read this awesome article – The Quiet Joy Of Cooking. Author Dana Velden is so practical and so wise.
3) Eat Intuitively. Whether you're trying to lose weight or not (and no matter what you're cooking for the week), learning how to eat intuitively is crucial. HOW you eat is just as important as WHAT you eat.
Your body knows exactly what it needs to thrive and naturally reach its ideal weight—you just have to get back in tune with it. Read my previous post on eating intuitively HERE.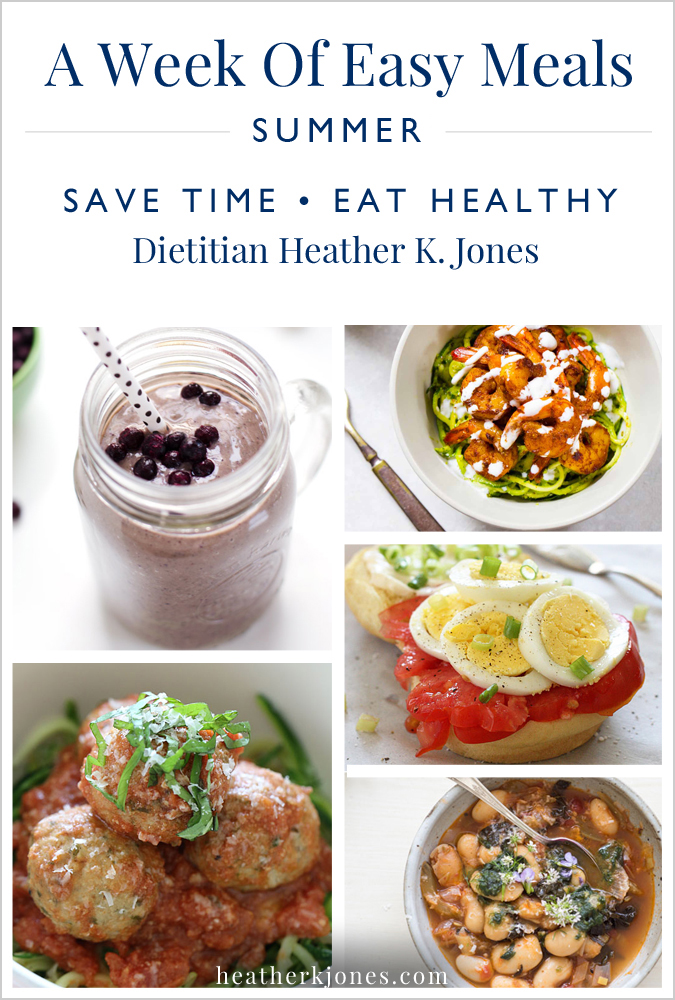 Note: I cook for just two people (me and my fiancé Aaron), so 1 recipe yields 2 or 3 meals for us. If you're feeding more or less, just adjust your menu and prep as need be. Also, obviously, use the freshest and best ingredients you can find. Check out this must-read book for more on this.
_______________________________________________________________________
BREAKFAST MEALS
Honey And Wild Blueberry Smoothie from Pinch of Yum
This is my favorite smoothie at the moment. (I make it with spinach.)

Avocado Toast + Summer Fruit
Sliced avocado on toasted whole-grain bread with a drizzle of olive oil and a sprinkle of sea salt is so tasty, so fast, and so awesome. I pair it will melon, cherries, or stone fruit.

Peanut Butter Banana Smoothie from Gimme Some Oven
This is my second favorite smoothie at the moment. (I do not make it with spinach – hah.)

Summer Fruit + Nuts + Hard Boiled Egg
This no-fuss, no-muss breakfast is ready in minutes. Any combo works. I like…
Mango + Cashews + Hard Boiled Egg
Peaches + Pecans + Hard Boiled Egg
Melon + Almonds + Hard Boiled Egg
Cherries + Pistachios + Hard Boiled Egg
_______________________________________________________________________
LUNCH & DINNER MEALS
Zoodles And Slow-Cooker Turkey Meatballs from Skinnytaste
Spiralizing (AKA making noodles out of vegetables) is the best thing since sliced (whole wheat) bread – I use the Paderno Spiral Vegetable Slicer. I serve this dish with a simple salad (greens, avocado, radishes, carrots, seeds, crumbled cheese, and oil & vinegar).

Weekday Vegetable Soup from 101 Cookbooks
This is my go-to veggie soup. I make this soup with vegetable broth instead of water. And I throw in whatever veggies are in season. In summer I usually add zucchini and corn. Instead of making the basil pistou, I top this with some leftover power pesto (see pesto recipe link below). I serve this soup with whole-grain crusty bread or a simple salad (see above).

Egg, Tomato And Scallion Sandwich from Skinnytaste
Like everything from Skinnytaste, this sandwich is seriously delish. And easy! Having hard-boiled eggs ready to go makes all the difference (see Meal Prep below). I make this with toasted whole grain bread instead of rolls.

15-Minute Spicy Shrimp With Pesto Noodles from Pinch of Yum
This power pesto, made with spinach, kale, and almonds, is to-die-for. And it goes with everything. I use the extra pesto for chicken sandwiches and as a soup topping later in the week.

Chicken Pesto Sandwich
Whole grain toasted bread filled with grilled chicken, sliced tomatoes, and leftover power pesto (see pesto recipe link above). I serve this with a simple salad (see above).
_______________________________________________________________________
SNACKS & TREATS

Summer Fruit (Whatever's in season.)
Larabars (I keep these in my purse.)
Nuts + Seeds
Dark Chocolate (I eat chocolate on a daily basis.)
Greek Yogurt + Nuts + Summer Fruit + Honey
Popcorn
Hummus (store bought) and Veggies (carrots + radishes)
_______________________________________________________________________
SUNDAY MEAL PREP

Make the meatballs in this recipe. (Get the meatballs into the slow cooker before you start the rest of the food prep.)
Make the pesto in this recipe.
Prepare the zoodles for this recipe and this recipe. (Plan on one whole spiralized zucchini per serving. In a sealed airtight container, zoodles will last up to 5 days in the fridge.)
Grill chicken breasts.
Hard boil eggs.
Make the veggie soup recipe. (I doubled this recipe and froze half.)
Cut watermelon and cantaloupe into chunks.
Slice carrots and radishes for snacks and salads.
_______________________________________________________________________

For lots more food-prep ideas and inspiration check out these helpful resources:
The Lean Green Bean Food Prep (Registered Dietitian Lindsay Livingston is the queen of food prep. So much good info HERE.)
Momables Food Prep (If you have children, you're gonna love this site.)
Back To Her Roots Food Prep (This real-food blogger provides lots of practical meal prep advice HERE.)
Now I'd love to hear from you! What are your tips for eating healthy when time is tight? Also, in the comments below please let me know if you'd like me to post other easy meal ideas.
Love,
Heather