How To Deal With A Bad Day (2 Essential Steps)
As a dietitian I help women form a healthy relationship with food. I show them how to listen to their hunger, to make self-care a priority, and to treat themselves with kindness and respect. But I'm also a human being, and that means I have bad days. Stressful days when I make not-so-healthy choices. Like last week when I ate an entire JUMBO bag of Twizzlers while driving in my car. Here's what happened:
My fiancé Aaron had surgery a few weeks ago (nothing major, and he's doing great), but with the pre-op appointments, the hospital surgery, the post-op appointments, and all the running around I've been doing to make sure he's recovering comfortably, I've been super busy. Combine this with my work deadlines, and I was seriously overwhelmed.
Plus, my mom ended up in the hospital with a broken nose artery the same day as Aaron's surgery! With so much going on I was skipping meals, skipping my workouts, and skipping my morning meditations.
So one day last week I made Aaron a healthy breakfast, but I was rushed to get to the pharmacy so I didn't bother to sit down and eat myself. I had a few sips of Aaron's green smoothie, and then I ran out to the store. I'm at the pharmacy and I realize that I am H-ANGRY (hungry and angry). So what do I do? I buy a jumbo size bag of Twizzlers (enough waxy red candy for a small village!) at the checkout counter, and I scarf down almost the entire bag while driving to my next errand. UGH. And then I started to get down on myself about it.
But after berating myself for a few minutes, I made a different choice, a better choice. I drove to a favorite park and took some time for myself. I let myself really FEEL my emotions, and I thought about how I made the choice the last few weeks to take care of everyone else, while flat-out ignoring my own needs. Then I listened to my favorite meditation app (check it out HERE) for 15 minutes, and I made of list of things I could do that day to feel better. And I actually started to laugh about the Twizzlers. I mean, I don't even like Twizzlers! So, yes…
Sometimes I eat an entire jumbo-size bag of candy in under 10 minutes.
Sometimes I feel overwhelmed and anxious and out of control.  
Sometimes I skip dinner and have a giant plate of French fries instead.
Sometimes I ignore my hunger signals and end up overeating. 
Sometimes I have really bad days and sometimes I make really bad choices. 
And that's OK! I'm sure this happens to you too. It's just a part of life. But if your food life is really out of alignment, it's usually a red flag that something else in your life is also out of alignment. Pay attention to that. And instead of letting a bad day or a bad situation totally derail you, you can choose to guide yourself back to a self-loving place. Here's how…

Step One: Embrace Your Emotions
From bliss to despair, we're meant to experience a full range of feelings. Emotional pain is a natural and normal part of life. But when you resist the pain (or deny it, or stuff it down with food), it not only sticks around a whole lot longer, it causes a ton of (totally unnecessary) suffering.
But when you acknowledge your feelings without judgement by simply saying to yourself, "OK this is how I'm feeling right now, and that's OK, I have a right to my feelings," you give yourself the mental green light to relax into your feelings. You stop resistance and you practice radical acceptance. It's simple and profound.
Look, I'm all for positive thinking, but it can do more harm than good if you don't also allow yourself to really feel and deal with your feelings. So instead of dishonoring your emotions, embrace and express them.
Step Two: Take Back Your Power
Once you honor your feelings it's SO much easier to step back from the situation and ask yourself,  "What are some simple changes I can make right now, right here to feel better?" You don't have to stay stuck in the eat-repent-repeat cycle. You can choose to show up for yourself with patience and with care instead. Even if you're feeling angry (or sad or overwhelmed or whatever), you can choose to make a small self-loving choice that will have a HUGE impact in your life. Here are a few ideas:
*  Read or watch something inspirational, like the Phenomenal Woman poem and video from Maya Angelou HERE.
*  Write down three things you're thankful for right now – I love this simple and modern gratitude journal.
*  Listen to an uplifting radio show (my absolute favorite is Coach On Call with Cheryl Richardson) or listen to an empowering audio book (try this one or this one or this one).
*  Take a walk in nature.
*  Meditate – even just five minutes makes a big difference. Check out my favorite app HERE or download the FREE guided meditation HERE.
*  Listen to calming chant music (check out one of my favorite chant CDs HERE), or just concentrate on your breathing and repeat a mantra until you feel a little calmer.
You take back your power one simple choice at a time. And you are always at choice. We all are! And you absolutely have the capacity to create a positive change in your life.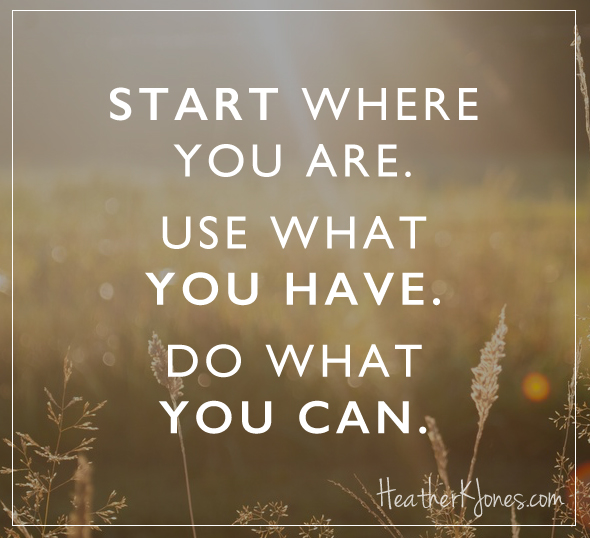 Love,
Heather