Redefining Weight Loss Success
Weight loss success is almost always measured in pounds, but a happier you is also a healthier you. Success is not only about getting to a healthier weight. Not at all. Success is…

* Showing up for yourself with kindness on a moment-to-moment basis.
* Appreciating how far you have come and how much you have learned.
* Being compassionate and forgiving of yourself and others.
* Stepping outside your comfort zone and trying new things.
* Never giving up on yourself or your dreams.

I believe that success is trying—PERIOD.
Still, most of us (myself included) tend to focus on what we are doing wrong. We see the negative more than the positive. This is totally normal, but you can train yourself to notice all the GOOD instead.
The following exercise is from psychologist and educator, Martin Seligman. Seligman is known as the founder of positive psychology, a field of study that examines healthy states, such as happiness, strength of character and optimism. And this scientifically-proven "happiness" exercise is one of my favorites…

What-Went-Well Exercise
At the end of each day set aside a few minutes to write down three things that went well for you that day. The three things don't have to be earthshaking in importance ("Went for a walk in a beautiful park."), but they can be important ("Received good news from the doctor.").
Focus on the positive things you did for your health and well being that day, and on whatever made you feel joyful, supported or uplifted.
And next to each positive event, just answer the question "Why did this happen?"

For example:
1) This went well today: Drank a green smoothie for snack (and I really enjoyed it!).
Why did this happen? Because I decided to try something new. Turns out I like smoothies made with spinach, who knew!?
(You'll find lots of delicious green smoothie recipes HERE.)

2) This went well today: Found a ton of healthy recipes to try on Skinnytaste.
Why did this happen? Eating better is important to me and I'm committed to making healthy changes in my life.
(If you think you're too busy to eat healthy, go HERE.)

3) This went well today: Completed day one of a loving kindness challenge.
Why did this happen? Because I want to treat myself with love and respect (I deserve that!).
(Go HERE to discover how you can self-love your way to slimmer body.)

This simple exercise is a powerful daily practice—POWERFUL—because what you focus on expands and grows. And when you focus on your daily victories and appreciate what is already good in your life, your day feels like a success – because it IS a success!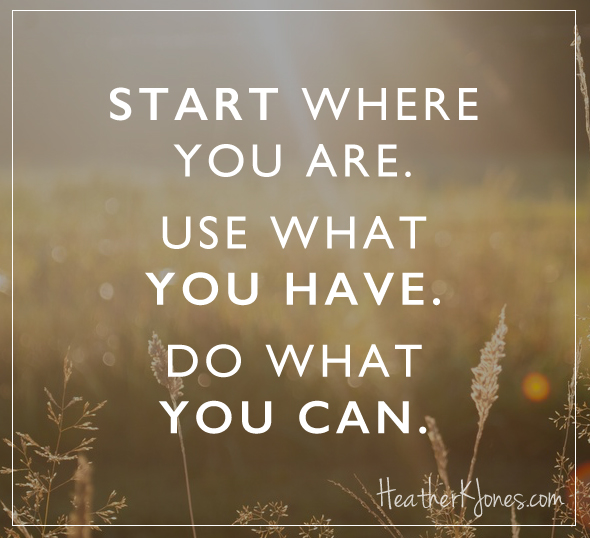 Simple. Profound. Life changing. Try it for just one week and see what happens.
With love and appreciation,
Heather